Custom Cabinets:  kitchen cabinet makers research and consult with their clients prior to bidding a cabinetry project!
The solid oak fronts on the kitchen cabinets in this fine home (below) proved to be in excellent condition! The homeowner made her wise investment in smarter storage space that included custom cabinet shelving and pullouts.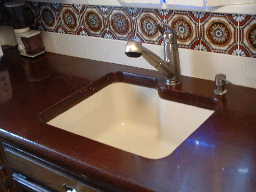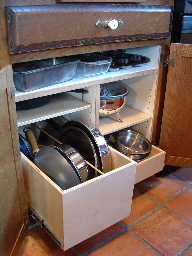 The dated, laminate countertop was replaced with a beautiful, custom crafted cement countertop, color-matched to the details in the special order backsplash.  The walnut stain, cement countertop is moisture sealed and hand polished to a satin luster. Note the custom shaping of the cement countertop, perfectly molded to the shape of the Swanstone undermount sink!  The customer selected the front edge profile from numerous options. Cement countertops, increasingly, represent the same beauty and resilience customers seek in granite and stone countertops, but are much more affordable. Contact the Tulsa cabinetry specialists at Tulsa Cabinet Guy, who will meet to discuss all of your options and the cost differences if you are considering a laminate countertop replacement.

Custom Kitchen Cabinets
Custom cabinets in the kitchen for the sake of convenience alone make good gourmet sense. Consider cabinet drawer inserts and shelf slides, cabinet pull outs and organizers, etc. for such convenience or due to limited mobility and back strain. The Tulsa cabinetry experts at Tulsa Cabinet Guy will structure your kitchen cabinets according to your kitchen appliance and utensil inventory and your personal preference and priority.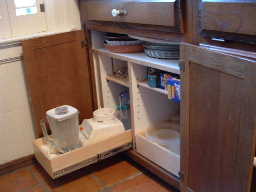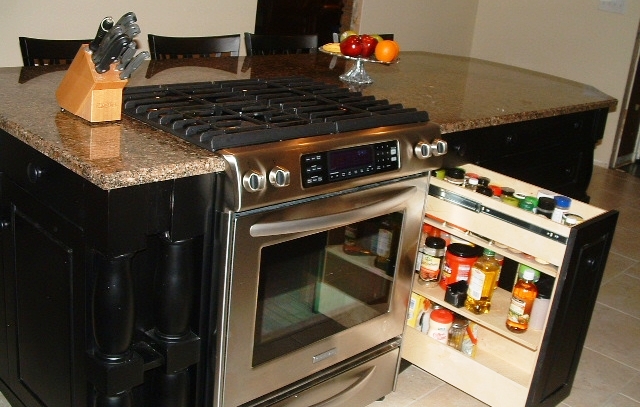 When you hire Tulsa Cabinet Guy for your kitchen cabinets, you have decided that your kitchen cabinets should be designed for your best use, that you need convenient access to your appliances and utensils, that you would like proper storage/retrieval.  Cabinet makers customize and craft beauty and solutions!
kitchen microwave/venthood combination
This customer had tulsa cabinet guy replace a dated venthood that stuck out too far. The new stainless microwave unit compliments the kitchen cupboards, serves the same venting purpose and no longer hits the cook in the head during meal preparation!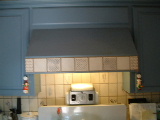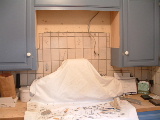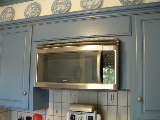 See the trades page for a photo history of tulsa cabinet guy's custom built-in, refrigerator niche over a staircase (below), providing additional kitchen space and more overhead clearance to the basement!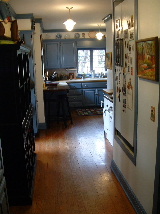 kitchen drawer customized for phonebook w/sliding tray insert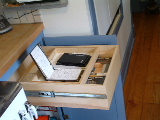 kitchen pullout cabinet for hidden trash bin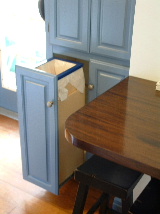 Visit again soon to see photos of a custom cabinet installation: beautiful hickory cabinets and a custom crafted refectory-style kitchen table and much more!
If you seek free consultation, consider meeting with the experts when it comes to custom cabinets. Tulsa Cabinet Guy: whether refinishing kitchen cupboards and shelving, fitting custom pullouts, building solid surface countertops (stone, cement, granite) or needing an entire kitchen renovation.